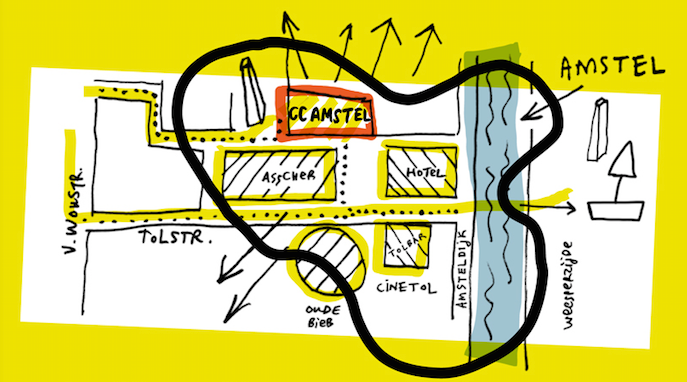 QETC performs at the state of the art CC Amstel, a 154 seater, which opened in September 2018. The theatre is at the new Cullinanplein 1, at the Amstel River end of Tolstraat:
CC Amstel
Cullinanplein 1
1074 JN Amsterdam


From Amsterdam Centraal Station or Amsterdam Rai tram 4 (Lutmastraat stop) from here ± 5 minutes walk to CC Amstel

From Amsterdam Amstel Station metro 51, 53 or 54 (stop Wibautstraat) from here ± 10 minutes walk to CC Amstel

From Amsterdam Muiderpoort Station take tram 3 (Van Woustraat stop) from here ± 7 minutes walk to CC Amstel

For information about public transport in Amsterdam, see the website of the Municipal Transport Company. Or plan your route from door to door using 9292.
From the Ring A10 Exit S110 Nieuwe Utrechtseweg. (1) Continue straight on Rijnstraat and follow Van Woustraat until the intersection with Tolstraat. Turn right into Tolstraat. Or (2) Turn right onto President Kennedylaan and Amsteldijk until Tolstraat. Turn left onto Tolstraat.
From Monday to Saturday from 9 a.m. to midnight. Costs: € 6 per hour. Please note that it takes a lot of time to find a parking space. For more information about parking, visit the Parking in Stadsdeel Zuid website.
P + R stands for Parking and Ride. In Amsterdam, this means that the car is parked cheaply and quickly on the outskirts of the city (P) and that you travel by public transport (OV) to the center area (R). The P + R parking locations are close to the A10, A9 and A2 motorways. More information here.
We strongly advise you allow extra time for your journey and to locate the venue. Plan to arrive early and enjoy a drink at the lobby bar, which is open an hour before the performance.

The venue is reserved seating. If you are late, we may not be able to allow you to get to your seats, in which case you will be asked to wait for an appropriate break in the performance, or until the interval.

Use Routenet for detailed route planning.

For more information, please email bookings@qetc.nl